Skip to Content
Vending Programs in League City, TX
Keep Your Employees Happy With a New Vending Machine
Your breakroom deserves a high-quality vending machine. Your workforce deserves one too. Every company strives to improve productivity and is concerned with employee morale. We do our part by providing vending machines that give employees the snacks and meals they need to remain engaged and focused throughout the day while keeping them happy.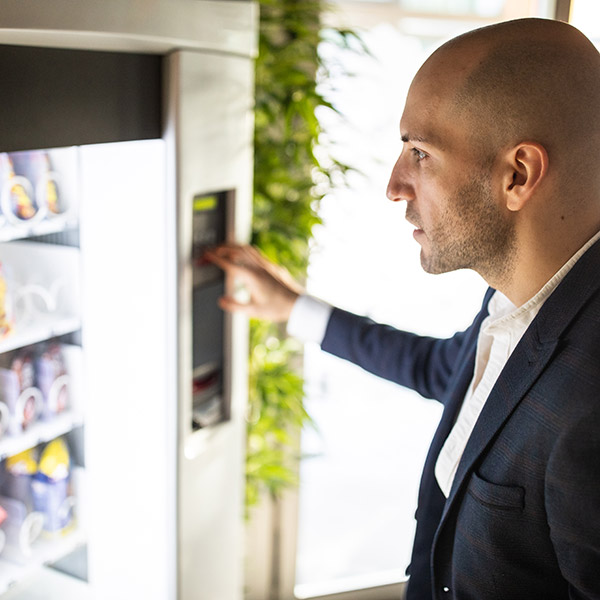 We Offer Three Customer-Centric Buying Options
Besides delivering a bevy of healthy alternatives, salty snacks, delicious beverages, and savory sweets, we offer a range of options to our customers. They include:
Full-Price Vending
Our smart vending machines take cashless payments and run energy-efficiently. They offer instant sales updates through a wireless connection. You will pay zero cost for products in the machine, while your employees pay 100%. Most importantly, Change Vending delivers zero-cost breakdown solutions and quick service reaction times, ensuring minimal downtimes when things go wrong.
Subsidized Vending
Subsidized vending is an enhanced program, and it lowers the cost of each item in the vending machine. It enables you to sell items to your employees at a reduced price point. They will pay a portion at the machine, while you pay the rest. As one of the best ways to encourage healthy eating among employees, subsidized vending is the forward-thinking business option. Plus, it improves employee happiness and appreciation of the company through grab-and-go items.
Free Vending
If you want to take employee engagement to the next level, consider offering a fully-subsidized and free vending machine to your office. You pay 100% of the cost on all products, while your employees do not pay anything. It will make you stand out during recruiting and interviews and reduce trips offsite for snacks and lunch. Most importantly, it will boost both productivity and morale in one swoop!
Trustworthy, Smart Customer Service From Change Vending
You can trust us with your company's vending solutions. We have over 30 years of experience, and it has taught us to always provide our customers with what they need. We anticipate your needs by monitoring what is selling in your machine and swapping out poorly-moving snacks or beverages with more attractive options. We never charge for service, and we respond quickly when a vending machine breaks, ensuring there is little downtime.
Contact Us Today to Schedule An Appointment