Skip to Content
Fresh Food by Vending Machines in League City, TX
Put a New Spin on the Vending Machine Experience
If you're looking for a new spin on the vending machine experience, then contact Change Vending for fresh food vending machines. Our customers have reported increases in employee happiness and productivity in the weeks and months following the installation of a fresh food-enabled vending machine. We believe every employee should have the opportunity to grab a fresh, well-made, and healthy meal for lunch – right from the comfort of their breakroom. We offer just that.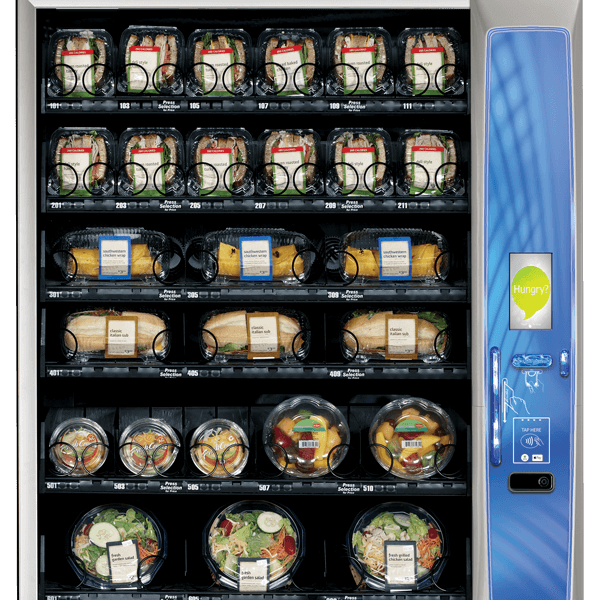 The Benefits of Fresh Food Vending Machines
You might be asking yourself why you should invest in a healthy food vending machine. There are many reasons to explore the exciting possibilities of fresh salads and more, straight from a food-safe vending machine. They include:
Convenience: Employees who like to eat healthily often have to bring their food or order from a restaurant that offers freshly-made salads and healthy dining. But with a fresh food vending machine, you can provide more convenience at less cost to your employees.
Productivity: It's no secret that the brain works better when loaded with proteins. You can help encourage better productivity by allowing your employees access to foods proven to enhance brainpower.
We Offer Technologically-Advanced Vending Machines
At Change Vending, we offer variety to our customers. We know businesses love options, and we deliver on our promise of a customer-centric experience. For instance, you can opt for the traditional vending machine experience if you want. But we also offer subsidized and free plans to amplify employee happiness. We offer the latest technology in our vending machines, such as mobile and credit card payments, and we take care of breakdowns at no cost to you. Our selection and customer service are the two best reasons why working with us is your best bet for enhancing employee satisfaction and maximizing productivity.
Contact Us Today to Schedule An Appointment