Skip to Content
Vending Machines for Houston and Surrounding Areas
Vending Solutions for Businesses in League City, TX
Let us provide a more innovative way to energize your team. Change Vending offers world-class vending machines to commercial properties in League City, TX, and throughout the surrounding areas. Our full-service vending solutions have helped businesses, organizations, and other various facilities accommodate their employees with top quality, expertly curated product selections, and effortless, user-friendly payment options. We are a vending industry leader using modern technologies and unrivaled customer service to satisfy the needs of our customers. When you enlist Change Vending as your vending partner, you and your team will enjoy clean, reliable vending machines with guaranteed product delivery systems and convenient access to the best break room refreshments available on the market.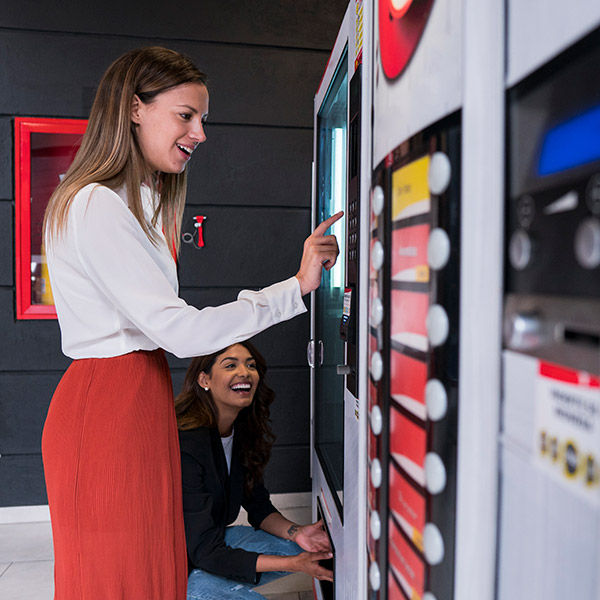 An Industry-Leading, Full-Service Vending Machine Supplier
As your full-service vending management service, Change Vending goes above and beyond to provide customized solutions that will meet your needs and exceed your expectations. With over 30 years of experience in the industry, we strive to foster corporate culture and promote well-being in the workplace while ensuring you have everything you need when you need it through our unmatched customer support. We have a diverse team of well-trained, customer-centric professionals in every facet of our business, from reliable product deliveries and route scheduling to fast, thorough response times from our technical maintenance support network. We don't just offer vending machines – we're devoted to full-service vending management custom-catered to your needs.
We Offer Three Customer-Centric Buying Programs
Besides supplying a better, more significant amount of compelling refreshments, Change Vending offers our customers a range of buying options. These include: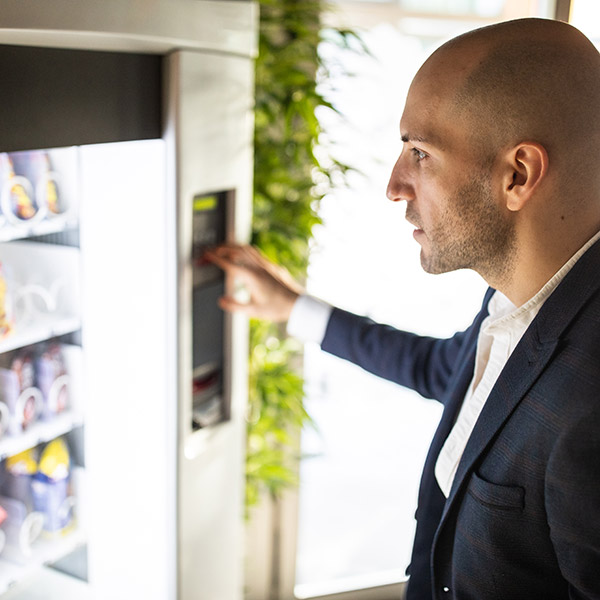 Full-Price Vending – Our smart vending machines take cashless payments and run with energy efficiency. They offer instant sales updates through a wireless connection. You will pay zero cost for products in the machines, while your employees pay 100%. Most importantly, Change Vending delivers zero-cost maintenance solutions and quick service response times, ensuring minimal downtime if something technical goes wrong.
Subsidized Vending – Subsidized vending is an enhanced program, and it lowers the cost of each item in the vending machine. It enables you to sell items to your employees at a reduced price point. They will pay a portion at the machine while you pay for the rest. As one of the best ways to encourage healthy nutrition in the workplace, subsidized vending is a forward-thinking business option. Plus, it improves employee happiness and appreciation of the company through grab-and-go items.
Free Vending – If you want to take employee engagement to the next level, consider offering a fully subsidized and free vending machine to your workforce. You'll pay 100% of the cost on all products, while your employees do not pay anything. It will make you stand out during recruiting and interviews and reduce trips offsite for snacks and lunch. Most importantly, it will boost both productivity and morale in one swoop.
The Change Vending Advantage
Transform your employees' break room experience with accommodations and convenience they'll truly appreciate. With a fully-stocked inventory of new products, an immense range of choices, and a substantial selection of healthier, more nutritional options, Change Vending's programs have the ability to support all dietary approaches to boost morale and help bolster overall health and success. We'll help you create a happier, more productive workplace environment with a healthier, custom-tailored food destination right in your break room.
Fresh Food – We believe investing in our vending machine delivery will make your workforce more productive and keep your employees more engaged. We can deliver fresh food, which you can then sell in your vending machine. Fresh food provides a nice break from traditional vending machine options.
Beverage Selection – Everyone has their tastes. Some prefer Coke or Pepsi products, such as Mountain Dew. Some have dietary restrictions and require zero sugar options. Others prefer pristine bottled water or sparkling water. If you have employees who crave sports drinks, we can deliver.
Convenient Snacks – It's mid-afternoon, and your employees are in the home stretch. The right snack can go a long way towards ensuring they complete their tasks for the day. Our convenient selection of chips, cookies, gum, candy and healthful options from must-have brands will accommodate any lifestyle.
Benefits of Partnering with Change Vending
We're in the business of helping you propel your business. With Change Vending's premium vending solutions, you'll be supported with many technological advantages, including:
Mobile Vending and Payments – Our machines are set up to accept mobile payment through a secure mobile app, allowing users to report issues or request products. Each machine also accepts cash are card payments.
Real-Time Inventory Management – We'll monitor the inventory in your machines in real-time from our location and deliver replacements before you run out.
Data Analysis for Selection Customization – Slow-moving items are replaced with faster, more popular options to ensure profitability.
Energy Efficiency – We provide machines that were built to meet Environmental Protection Agency guidelines for optimal energy efficiency.
Infrared Technology – Our vending machines have built-in sensors that guarantee the correct product is dispersed. The mobile app provides an easy way to receive an instant refund.
Nutritional Guides – Our machines have digital screens that can display accurate nutritional information for each product.
Recycled Products – We do our best to be friendly to our environment, which is why we recycle everything we can, especially defective products, to ensure very little ends up in a landfill.
Smart, Reliable Customer Service from Change Vending
No matter the type of your facility, you and your staff will have total flexibility in configuring your vending machines to your specifications. With over 30 years of experience in the industry, we understand the importance of having a positive effect on clients and employees. We take pride in our contributing role to the success of your business. If you are interested in bringing your break room area to life with state-of-the-art, full-service vending machine solutions, please fill out our contact form or give us a call at 281-685-7718. We look forward to serving you.
Contact Us Today to Schedule An Appointment