Skip to Content
Snack Vending Machines in League City, TX
Delicious Snacks for Any Time of Day
Change Vending offers a reliable vending machine experience through a combination of variety and high-quality snacks. Your office deserves a vending machine stocked full of delicious crackers, zesty chips, and savory-sweet cookies and treats. Your employees deserve to have access to healthy snacks too, and we can offer all that and more. Each snack machine is tailored to your location, employees, and specific needs. If you tend to sell out of cookies faster than granola bars, we can cater to your needs.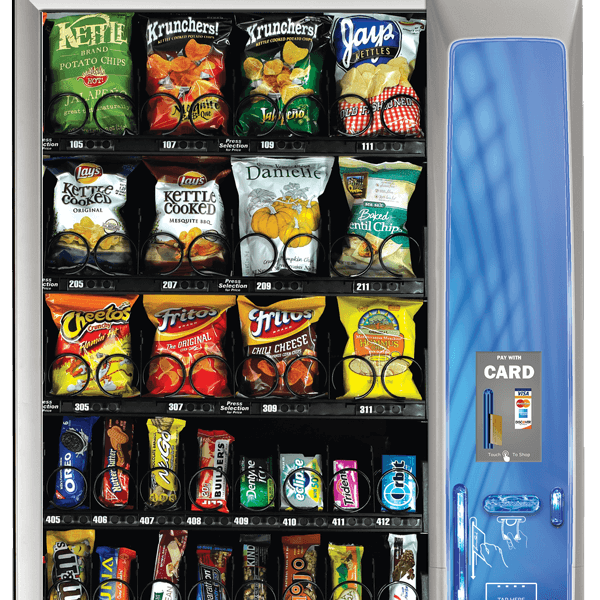 We Offer Variety and Quality Equally
At Change Vending, we pride ourselves on offering our customers the broadest selection possible. From salty to sweet snacks and everything in between, we make sure you have everything you need in your office. But most importantly, we keep your vending machine stocked with no-cost delivery. We'll swap out poor-selling options and keep things fresh.
Chips
Give your employees their choice of a broad selection of chips, from zesty Cool Ranch Doritos to baked Lays potato chips. Those with dietary restrictions will love having gluten-free options at their disposal.
Pastries
Everyone has a craving for a sweet from time to time. We can stock your vending machine with cinnamon rolls, donuts, honeybuns, and hundreds of additional baked goods, any of which will thrill your employees.
Cookies
Along the same lines as pastries, we can stock your machine with a bevy of cookies, from Chips Ahoy! to Famous Amos. Do you love Oreos? Make sure your vending machine never runs out of Mini Oreos by working with us.
Candy
Butterfingers, Kit Kats, and Snickers, oh my! At Change Vending, we love candy just as much as you and your employees do. Make sure they have everything they need for a late-day snack.
Contact Us Today to Get Started With Change Vending
Our customers rave about our commitment to customer service and variety. We want each of our clients to have as much control over their vending machines as possible. That extends to the plans we offer. If you want a simple set up, our traditional program is right for you. But if you're going to give your employees an enhanced experience, then our free and subsidized plans are the way to go.
Contact Us Today to Schedule An Appointment