Skip to Content
Convenient and Reliable Vending Machine Delivery in League City and surrounding area
At Change Vending, convenience is key. We want our customers to provide their employees and clients with a great working and visiting experience. One way to do so is to offer a state-of-the-art vending machine experience. Our products regularly rotate, ensuring freshness and variety for all who use them. We offer vending machine delivery to Houston and surrounding areas. This broad service area ensures as many customers as possible gain access to our services.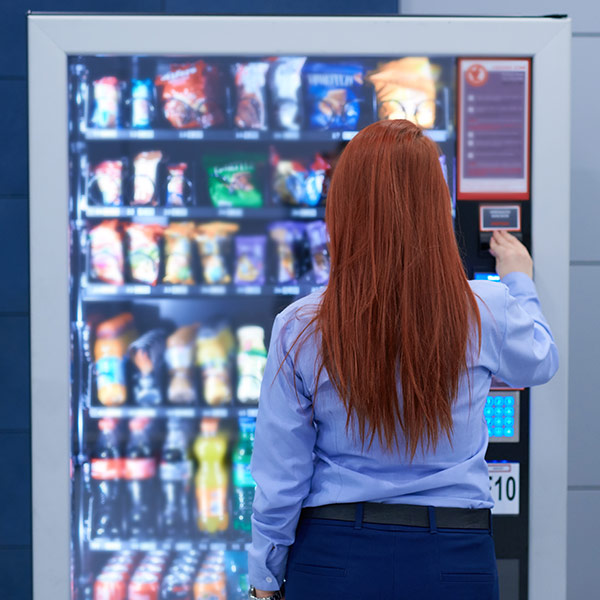 A Broad Selection and Customer-Friendly Options
We offer a broad selection of delivery options to our customers. Most importantly, we allow for customization, enabling business owners to combine old standbys such as Coca-Cola or Pepsi products with healthier snacks, such as trail mixes. We prize customer satisfaction above all else. We believe our willingness to provide plenty of options is a significant reason why our customers entrust their employees' happiness in our capable hands.
Everyone has their tastes. Some prefer Coke and Pepsi products, such as Mountain Dew. Some have dietary restrictions and require zero sugar options. Others prefer pristine bottled water or sparkling water. If you have employees who crave sports drinks, we can deliver.
We believe investing in our vending machine delivery will make your office more productive and keep your employees happier. We can deliver fresh food, which you can then sell in your vending machine. Fresh food provides a nice break from traditional vending machine refreshments.
It's 3 p.m., and your employees are in the home stretch. A snack can go along way towards ensuring they complete their spreadsheets and file their reports. From Lays potato chips to Chips Ahoy! cookies, we've got it all.
We offer three primary vending options, full price, subsidized, and free fending. Full price vending machines take the latest cashless payments, while subsidized vending is an excellent option to encourage healthier eating. Meanwhile, free vending is a massive perk for employees!
Keep Your Employees Happy in Their Breakroom Space
A great breakroom is a place for employees to decompress from the responsibilities of their job. Help make their experience an excellent way by working with Change Vending. We can help you satisfy your team members' desires and simplify your employee engagement results in one fell swoop. Because our machines can accept mobile payments, there is no risk of losing change. The appliances won't force your employees to carry cash if they don't want to.
Contact Us Today to Schedule An Appointment